This shop has opened up in an old building which backs onto the Don.  The owners are living above the shop with two balconies facing out over the river.  I've been driving past often and never had the opportunity to stop and look inside, the spot is well of the beaten track tucked in a corner of an old industrial area which has gentrified in spots but is still both small scale industrial and hosts a fair amount of sex workers.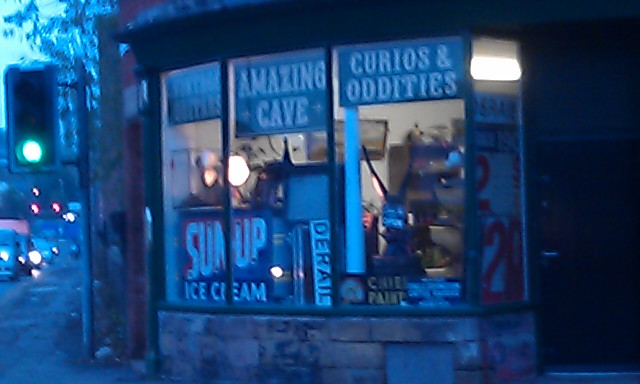 The owner was sitting inside, his name is Aaron.  He was tired as he'd been down at a market inside the M25 and not slept.  He intends to sell classic guitars and amps as the speciality.  My reason to stop besides pure interest was that S had said 'Give them that old radio'.  So I carried an old valve radio in and said 'this is for you'.  'I don't have that taste' he said, so I explained I didn't want to sell it but give it to him.  He accepted and we talked a while.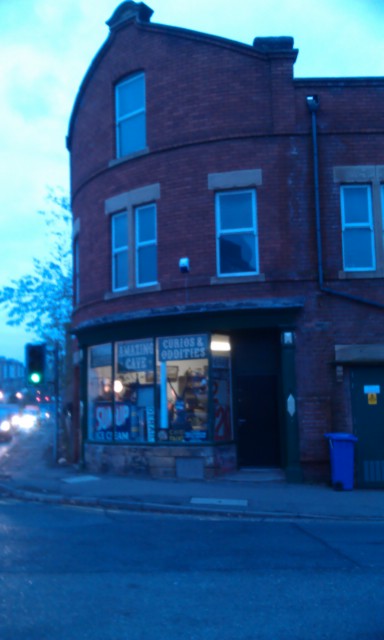 My daughter E wouldn't come in because she was scared by the stuffed birds in the room, the taxidermy.  The shop has been building up ('organic' he called it fairly) for some two months or so.  I drove past early on with an artist friend who said 'For an amazing cave its not very amazing'.  I thought that mean and born of jealousy.  The place thrilled me partly as its colours and taste took me back to so many places from the past.  Rather like a café in Attercliffe it recalled a site in Venice from the early 80s, by a canal, a dream of a sort, sleeping on a table after the bar closed.  Then maybe an Islington I never knew but Leytonstone High Road in the 60s and an unimagined taste born of class unconsciousness.  You were there M!  Stuffing falling out of the upholstery…
I also told Aaron about the design/production fashion company who were to occupy the old factory across the river; that I'd thought he may have taken the shop knowing that this was to come?  But he didn't know although he was interested in the conversations of the old works locally.  He said many customers or passers by were prostitutes and that he hoped to be able sell guitars to the boys down at the skate park.
Good luck to Aaron.  To the Amazing Cave.