Down here in Spain, my father lives in La Siesta, a housing estate to the west of Torrevieja, and all around there is so much evidence of the British.  My father has an appointment with someone and he drops me and his partner on the edge of a roundabout, a casual contravention of traffic laws that he would never permit back in the UK.  We walk into a place called Quesada, through a brick build faux-town gate.  It was open land until around 25 years ago when development began.  There is a main street now with shops and bars lining it.  I am taken to a bar at the far end of the street which is a Spanish bar I am told, that's why my father likes to go there, at least there is a chance to speak Spanish, something that is not always easy for him to do, so many businesses being run by English speakers.  I am amazed when I go in because I immediately notice that the back room of the bar is made up entirely of fruit machines, about twenty of them with some offering prize winnings up to 600 euros.  There is also an electronic roulette wheel.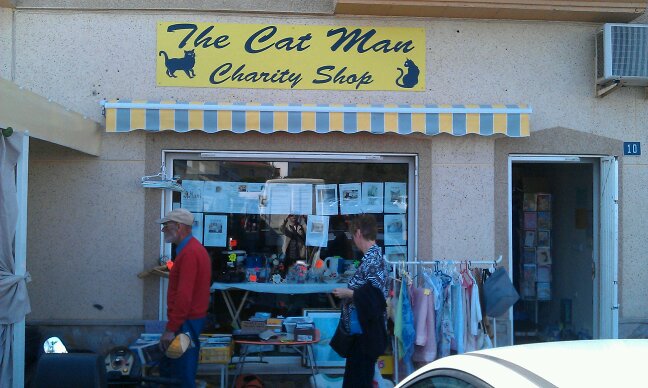 We walk down the main street after taking a coffee.  We pass English cafés, a Vietnamese and Thai restaurant, another oriental style food house with ornate wood work outside, almost alpine in feel.  Over the road is a China Bazaar, there are dozens of these Chinese shops around, some as large as supermarkets, selling all sorts of cheap goods from china, staffed, my father says, largely by young Chinese people, not the ones with the money.  There are also many Chinese restaurants, some again very large.  I am indicated a restaurant at the entrance to the main street which offered Italian food, it was now a Chinese place I was told.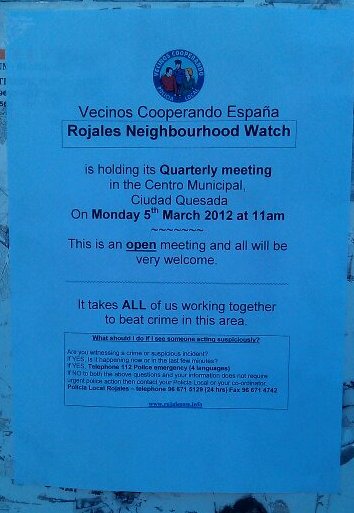 We take a side street so I can see the second hand book shop.  I'm told by my father not to buy anything as they are sold for 2E and at the Help the Aged I can buy books for 50c.  I don't want any books anyway unless there is something odd and I see nothing for me.  Boxes and boxes of novels.  All English.  There is an English butcher there too.  Then another English bar.  I see three charity shops, one for cats, one for horses and one for an English nursing charity.  Clothes shops all English, estate agents and another bar.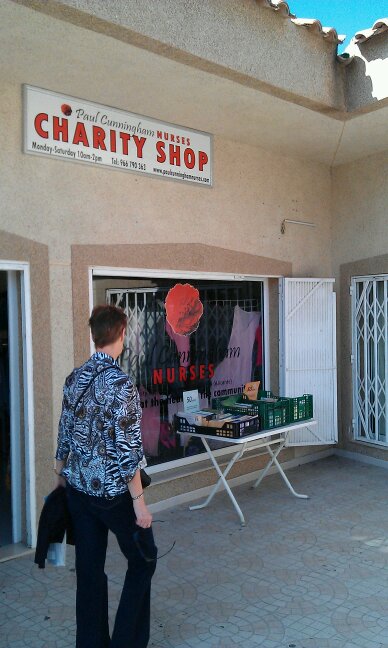 We turn the corner and walk along the road past more small businesses.  A Spanish run mechanics, an outlet of the Yorkshire Linen company, a fish and chip shop, a bicycle shop, snooker hall and more.  In the distance I am pointed to a large restaurant now a Chinese restaurant, a large shop now selling Chinese goods.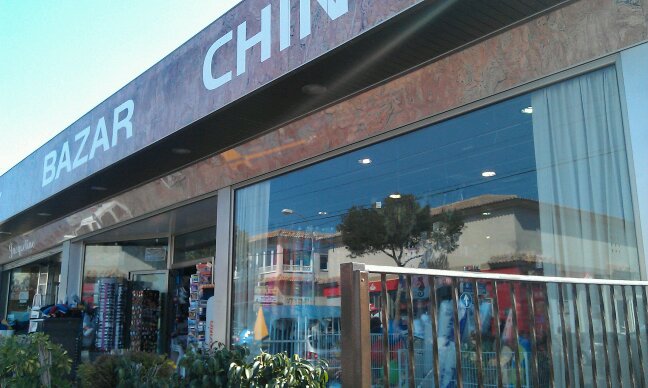 Just outside this small shopping centre, too all intense and purpose a small village, I am shown areas where housing estates have been stopped mid construction.  Roads, street lighting, drains but no houses.  The scrub is growing up on the plots and the roads are sprouting grass.  That must be nice for those living nearby I suggest, that they have some space rather than ever more houses.  No, I am told, these are scruffy areas, home to rats, not like the Parco Naturale.  I think they look nice though, plant life coming back, very filmic.  I suppose they represent breakdown.  Something that seems to be there in the air all the time.  Everything on an edge down here.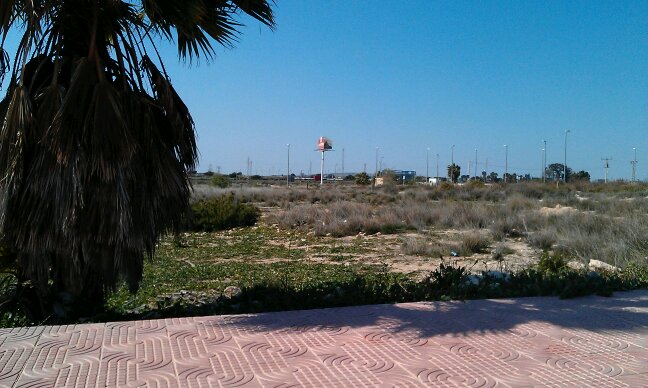 There are lemon orchards by the road side heavy with fruit, barely worth picking I am told, they sell at 60c a kilo on the markets.  There has been barely five days rain this winter I am told.  The gulleys are dry and I don't know if there is water in the irrigation pipes.  Without the irrigation the area is like desert yet scarred by the violent run off from the storms when they come.  My father bought his place on the cusp of the small hill, the incline, to avoid the flooding when the rain came.  He is a civil engineer, he understands all this.
My father says these properties were built for the foreigners although before he had thought they were built for the Spanish.  There are many properties for sale and estate agents everywhere.  The smaller terraces like where my father and his partner live are called 'Calle'.  I've seen similar arrangements in Hull, where small terraced roads are pedestrian access only and that is the model for the Spanish Calle.  Each one has perhaps 1 in 6 for sale.  My father says that they are being increasingly sought after by the local Spanish. I hear Spanish spoken here or there but mainly it seems to be English.  There is a shopping centre nearby, called Washington Square.  We go there to buy ground coffee.  There are two bars, two small supermarkets and a charity store (everything at 1E) supporting rescued horses.  The bars were busy later that evening, I pass by after I walk my aunt home and see dancing, hear singing and shouting and laughing.  A lazer plys the sky nearby from another club of some sort.
We drive back from Quesada and I see a lot of graffiti.  I ask who does it?  I'm told it is the English that do the poor quality stuff and that art students do the good coloured pieces.  Do you know that I ask?  No, it is just what we were told.  Some of it is very direct, like the big penis ejaculating and many simple tags.  We pass a block of flats where I had been told yesterday cheap accommodation could be bought.  I comment on them and I hear that they are home to Romanians.  Gypsies? I ask.  It is not known, women with headscarves and many children I hear, the flats are the centre for some criminality too I am told, a poor neighbourhood.
This reminds me of the Moroccans.  My other aunt works as a volunteer at the Help the Aged centre on the estate.  She's been doing this for years now.   My father offered to help out occasionally, particularly on the occasion of the monthly sale of electrical goods.  This involves the things for sale being priced and then sold.  I was told that there was a problem because the 'Moroccans' would come early and be there as the doors were opened bargaining forcefully to get the better goods before the English people could get a look in. What is wrong with that I asked?  They sell them on I was told, make a big profit and don't allow the poorer English to buy them.  Resolving the issue was difficult, the goods were priced for a cheap sale and it was dishonest to try and sell them at an inflated price to the 'Moroccans', it was also not considered correct to keep things back for the later arrivals.  It was not clear who these people were, 'Moroccans' appears to be a general term for darker not Spanish people.  Tomorrow is a clothes sale at the centre and tombola but the Moroccans won't be there I'm told, not for the clothes.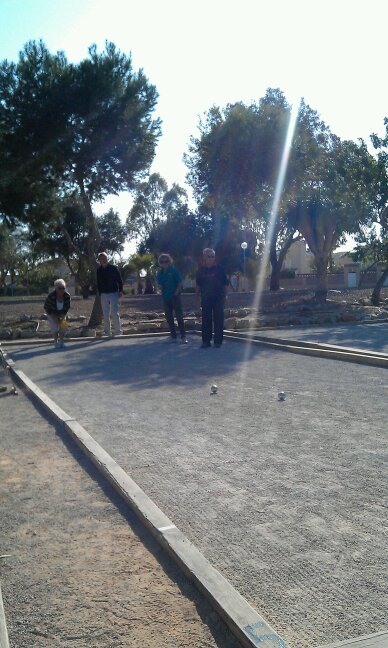 In the afternoon I accompany him to the petanque pitches.  I meet a group of about 30 people nearly all Swedish with the exception of a five English: myself, my father, my aunt and an English couple.  There are a couple of German ladies there too.  Many of the people are very tanned and some look almost pickled.  We are given numbers which we exchange for cards and are teamed up according to the numbers and colours we choose.  The languages spoken are mixed, odd bits of Spanish appear in the context of the game, Swedish greetings and salutations, little English is spoken.
I am told the Belgians play there on Tuesday.  There is another Belgian game up at St Louis.  The Flemish play down here at La Siesta and the Walloons at St Louis.    Elsewhere I pass a small park the arrangement of which I am told was paid for by the Norweigan Crown.  There is a Norweigan centre on the estate too.
This evening I come with my father to his bridge game in bar by the coast about three miles away.  I meet his bridge partner Marie France, a French woman and we agree to go for coffee at her house this coming Sunday.   I go down to the beach to see the fishermen beach casting.  I suggest it would be nice to do this and my father warns me not to hang around there at night or I'd risk getting hassle from the local young men.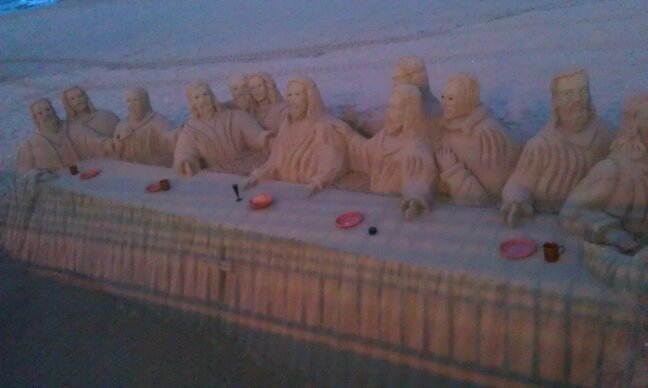 Three men are gathered around a gaz stove at the head of the beach, they will sleep there.  They are protecting a sand sculpture of the last supper.  There is also a relief sculpture of Sponge Pants Bob or whatever he is called.  I give them 1E but I don't know if they are collecting money or there for purposes of piety, I assume the former but the care of the work and the detail suppose the latter too.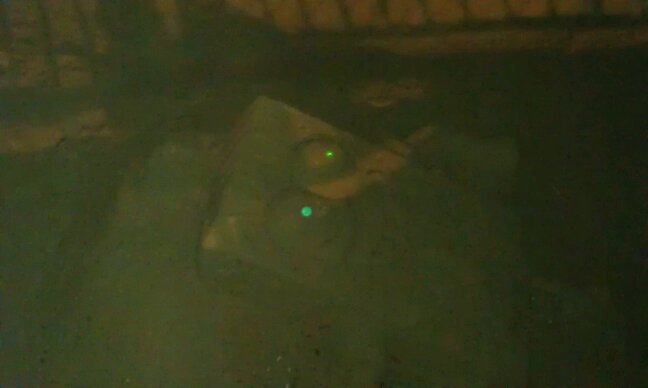 I sit in the bar of the restaurant where my father plays bridge.  The television plays a programme, something, it appears, like the Jeremy Kyle show.  People seem to shout at each other, the audience laugh in embarrassment, women appear to be surgical.  The presenter is assisted by a young woman, small in stature, less than 4 foot tall.  She is dressed as an angel and accompanies the guests as they leave the set, dancing around them with wings on her back.  Then a little later she is doing stretching exercises in her white tutu next to another young woman, 5' 6", slim, in leotards.  Then they are both doing dancer's exercises at a bar.  The first young woman is struggling.
It takes nothing for pathos to live; just breathing is enough.    I receive a message from a friend in London who says she is 'burning the candle at both ends'.  I reply that I am 'stubbing it out at both ends'.
But in this bar I am finally alone and I manage to ask for a drink, a bitter (amaro) I suggest?  I am offered and accept a Cantueso ORO, bitter and slightly medicinal.  Perfect.  I eat some ears, carnival ears I am told by the bartender.  I feel better now.  Slight indigestion but normal.