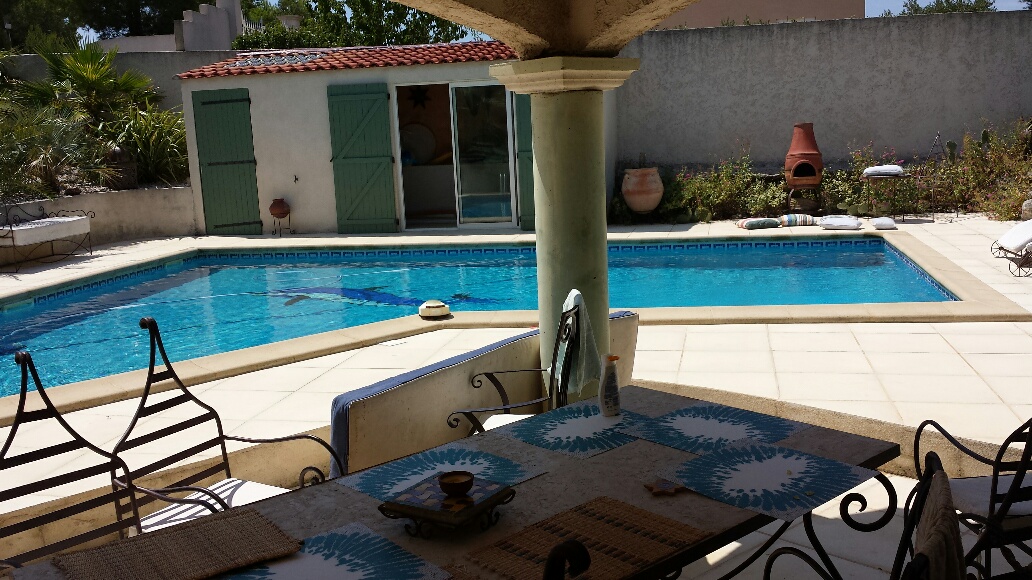 So we are staying in a villa in the commune of Ensues La Redonne which lies 10 miles to the south-west of Marseille on a stretch of coast known as the Blue Coast. The Coast forms part of an area known as Les Calenques, the more famous area carrying that name lies south and south-east of Marseille. It is an area of coast where the cliffs abut directly onto the water, access is very difficult to the sea and it is in the Calenques, small sheltered coves, that villages have grown up around small fishing ports. The area is reminiscent of the Cinque Terre in Liguria several hundred kilometres further to the east beyond Genova. Road access to the villages by the sea involve steep descents and a railway line runs the length of the coast through tunnels and over viaducts.
We have rented a villa through one of these on line not quite standard rental agencies, where individual householders advertise their personal properties for rent. There is quite a Hoo Haa in France at the moment with this system as this can become effectively a way of avoiding paying the complicated set of taxes to which officially declared tourist operations are subject. So we are renting our house from a family who appear to have vacated it for the period. There are a variety of issues that we are facing in this respect, particularly concerning insurance and the oddity of paying a lot of money for somewhere that doesn't actually provide certain basics. Anyhow, these are not the subject of this note, generally the place is lovely with a really nice swimming pool and a series of ground floor living areas and a kitchen which are cool. Always needing some sort of hobby with which to distract myself I am engaged in an intense cooking exercise, perhaps more on that later.
So I knew nothing at all about this area before coming here. Of course I have heard of Marseille and slept once outside Marseille Central Station, St Charles I believe it is called. This must have been in 1980 perhaps even 1979. I would have been travelling the south coast busking in the resort towns. What I remember about that night at the station was that I slept in a sleeping bag and tied, as was my wont at the time, my guitar to my feet or arms. However what happened that particular night which never happened before or since is that when I woke up in the morning to put on my shoes, they were probably Clark's desert boots, all the rage in Italy at the time, I found a scorpion in one of them. So apart from scorpions I know Marseille to be a lively, fast, energetic, busy, ethnically mixed, left-wing, Mediterranean melting pot. The coast however, in contrast to the extensive areas of poverty with which I associate areas of Marseille at least, I associated entirely with wealth. Cannes, Nice, Menton, the Cote d'Azur.
However this area of coast has completely confounded my expectations. The commune in which we are located is a Communist commune. Prior to that socialist. There are no obvious elements of touristic infrastructure. There are no other foreign visitors here on holiday or so few that I have yet to encounter them when going to the shops. All the cars are locally registered that I have noticed. Inside the bars and in the shops I feel that I am in a working-class area and more distanced from the sort of impact I associate with tourism and Anglophone "leisure migration" than I can remember for many years.
In a very telling episode the 5 children, Saskia and Wendy walked down from our villa to the small port at the bottom of the hill, a steep walk past the station. They were looking for somewhere to take the children swimming in the sea. They found two small gravelly beaches. When they came back there was a distasteful discourse in respect to that seaside settlement. It was described as scruffy, the people as slightly rough. A nasty block of flats was near the beach area and it was not that clean.
I think the element of proper snobbish commentary is clear. I, perhaps in my reverse snobbism, found those very elements refreshing. It is such a relief to be in an area of the Mediterranean with beautiful clear waters in a wonderful bright blue landscape which has not been colonised by the bourgeoisie. Where in fact people usually consigned to estates at the back of coastal towns, live with views over the open sea. In some ways it has reminded me of the sorts of places you get in the North East of England, areas like North and South Shields, where working cities occupy the coastal strips. Somehow I didn't expect to find this any longer in the French Mediterranean.
Why it is like this, I hesitate to guess, but it may have something to do with the heavily industrial nature of this area. To the east lies Marseille and beyond that the city of Toulon, a major military port amongst other things. To the west lies the Camargue, which while it is a huge expanse of Marshland, also houses vast areas of salts pans which produces a very complicated industrial landscape. There is also a power station some 20 km up the coast and various industrial offshoots that sits near the canal of the Rhône which reaches the sea in the Camargue. To the north lies a very extensive inland lagoon surrounded by manufacturing, light industry, storage depots and the airport. So whilst this area, the blue Coast, is pretty and the water pristine, it sits in a sense as a backwater to the industrial hinterland.
So, quite the discovery. However potentially not the most comfortable place to be without a strong command of French. I don't know if this is the case yet, but certainly the interactions I have had in local shops and bars have not been straightforward. People are surprised to find what is evidently some sort of tourist present.