On a walk to get air this morning I see a goldfinch in a cage outside a house near my father's.  It was agitated: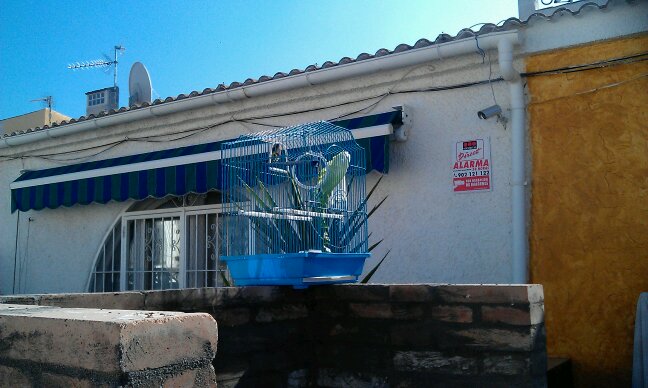 With my father we speak about the plans that were announced for emergency evacuation of the British from Spain.  He is annoyed about it.  Why do it is one question but why advertise it is the main one.  Why frighten people.  There is an uncomfortable current of discussion here for me, a sense of a racism, a fear of the other that my father often expresses but that he doesn't feel reflexively.  I feel that the telegraph, mirror etc publish this information to feed into the general state of concern over migration, to create fear in fact.  My father is upset and reminds me that no body ever asked the British if they wanted to be multicultural or integrated, referring to the UK not Spain where the British are understood to bring money and create work.  I am irritated too and remind him that no one was ever asked anything, if they wanted to go to war, work in factories.  I want to explain that the focus on immigration is the way that the state, or whatever we want to call it, avoids people focussing on the way power is really manipulated, it creates an enemy – and leads to a dangerous terrain.
Yesterday my father had met a couple where the woman had Alzheimer's, they were talking about going back.  Going back is veto it feels.  It comes up in the later time at the AC centre, 'many English are going back' I am told.  'No' is countered.  I feel that those here feel left behind if and when people go back.  However my aunt B tells me that there is no easy route to state provision for sheltered accommodation for the elderly so there comes a time when it is hard to stay.  There are private nursing homes with a few English in them.  AC does make a visit once a week with volunteers to take them for a walk.
Today I went to the drop in at Age Concern (AC).  My second aunt, B, has been volunteering there for twelve years now and is the third in the hierarchy.  Outside the building, in the car park were parked two vehicles both with Age Concern printed on them as well as in Spanish Amigo de la Gente Edad.  The building itself is on the corner of the park where we played petanque.  There are two buildings there, the smaller of them is the local Police station, I don't think it is active but more a local drop in spot, maybe used for certain paperwork.  Next to this is what was an unused warehouse, about 10x20m.  AC started up 13 years ago with a locale over the other side of the main road up near St Louis.  They were offered this site by the local council 12 years ago, six months after my aunt joined as a volunteer.  AC had to take care of arranging the inside and they have done an amazing job.  Outside it is very unprepossessing.
I walk into a large bright room with a woman at a desk and other people, probably 12 or so, sitting at tables.  Everything is very clean and orderly.  There are books lining the wall to the left which are for sale at 60c each.  I go to the desk as people look up wondering who I am.  I ask for my aunt and she emerges from an office at the back and I am introduced, as my father's son, my aunt doesn't like to be called an aunt.  There is some laughter.  I am shown round after she concludes a short meeting in her office.  I am shown the books, then the tapes and large format books (3E each but it is a deposit only), there is a room with medical equipment for hire, Zimmer frames, wheel chairs, toilet aids, all very well managed and tidily arranged.   There are two offices, one for the day manager, today my aunt, a further one for the local manager and vice manager I guess.  The local manager is introduced to me and my aunt has clearly already mentioned that I have done some research.  I am told that there are a number of students who come to meet the people at the centre, German students from Murcia University.  There is a slight formality I feel in her approach at this point, less a meeting with me, my aunt's nephew more a meeting semi official as if I were there to research.  I see the kitchen and the garage where the electric material is checked and then later sold.  Out the back is a further facility, a call in centre offering some medical services.  The friends of AC (paying a small sum of a few E a year) can take up to three free sessions over their life, Reki is offered, chiropody, Zumba? I think.  These are also available by paying as AC has to pay to bring them in.  There is also a heart surgery, an advice centre.
I make myself a tea and sit down at a table with three ladies and a man.  I introduce myself to the man who says, in concern I am not, that he is English.  I am too I say and he tells me his name is Albert, he leaves soon.  I am sitting next to Maria.  She is wearing a bright green striped jacket with matching trousers, made by her I later hear.  She has a strong accent and I assume she is Spanish but on asking I find she is from Italy, Monte Cassino to be precise.  We speak some Italian, hers is un-practiced I note.  I ask her many questions and try to ask the other two ladies equivalent ones.  The lady nearer is reticent.  She too is not English I note through her accent, are you Spanish I ask?  She avoids answering but I keep going and find that she learned English at boarding school, having been sent away from Bhagdad by her parents.  I do not find out when or why.  She married an Englishman I hear and later from my aunt that she has one child in America and one in the UK, she herself, recently has had a brain operation and is shy we agree.
Maria, from Monte Cassino is anything but shy and talks volubly.  I explain that my other aunt J lives here too and that she is going on a trip with AC this Saturday.  Maria perks up and goes off to find out about the trip and I hope I have not put my foot in it.  My aunt J is a beneficiary of AC and is going along.  The trips are one to one, beneficiary and volunteer but with my aunt being in good health two to one can be accepted.  Maria was in Monte Cassino during the war and the famous battle.  She was from small village half an hour from MC and 'lovely, everyone was like family'.  Over the course of conversation it comes out how hard it was there, little food and during the battle no food at all.  Her elder brother had to go out looking for food for the family.  She had a sister and her mother asked her to take the nappies to the wash house to wash them.  She was leaning over the water when a shell hit nearby and a piece of shrapnel lodged in the wall near her legs.  She ran away terrified leaving the nappies and said to her mother she'd never go out again to wash anything.
After the war she was around 18 and one of the friends of her family had family in the UK, running a restaurant in Preston (near Manchester).  This lady kept asking her (she saw me and kept asking me) to come to work for her.  Maria's mother told her to go because there was nothing to do in the village after the war.  In Preston she worked for this Italian lady born in the UK, she was very strict I was told, it was hard.  She decided to come to Spain ten years ago for the climate, she was already single by that point.
The third lady was from Kentish Town and then more in the suburbs I heard.  She didn't evacuate during the war because her parents didn't want her to go.  She has been here ten years as well.  Nice lady but I can't recall more.  We spoke about medical stuff with my aunt for a while and this third lady says that she has to pay a translator when she goes to the doctor.
A man came up and the three ladies went off with him, as he was the driver for the minibus to take them back to their homes.  After this a fourth woman came up.  She was 20 years here and spoke some but not enough Spanish.  She had lived in 45 places being both fostered and then married to a soldier.  She had lived near Canvey Island when it was bombed and recalled the flames leaping to the sky.  Her foster mother had died and when she was grieving with her 'sister' she said, 'mummy is dead'.  Her 'sister' said, 'but she was not your mummy, Auntie X was your mummy'.  This was the first that she had known about this.  She never spoke about it.  She said it was very complicated.  Her husband, now dead, had been in the English army at the battle of Monte Cassino!  He had been injured and taken into the monastery by the monks.  Later talking to my father I hear that he had an uncle by marriage on his father's side who had lost a leg below the knee at Monte Cassino.
My aunt B has already told me that the Spanish don't know what charity is.  All the money for AC has come from the members.  Monthly sales, two annual fairs (3000E a time) and then two shops, with paid managers, one in Torrevieja the other in ???? Matera? They produce a good income.
Walking around La Mata while my father plays bridge.  Very Spanish, a tourist resort out of season.  I note the remains of the old port near the jetty.  I can find a few one story buildings, what remains of the old village apart from the church which is shut. English is visible in the menus and the occasional bar, like the Dublin bar.  I write in a bar my father recommended, all Spanish.  Good.  There are a few older building visible in the town like this one still along the seafront, now boarded up: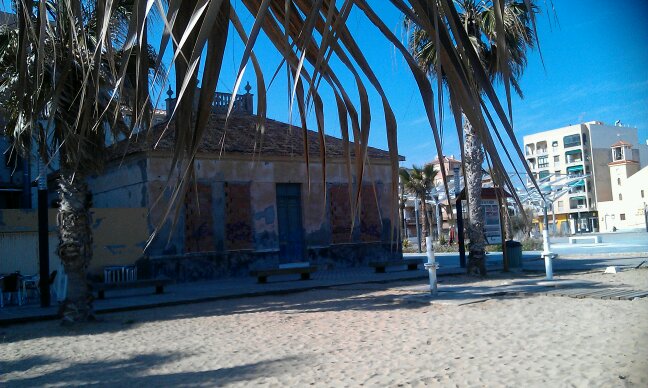 I walk back to my father and his bridge game along the beach.  Not many people there, one family with children otherwise there are just a few men fishing.   These are the same groups I think in the same position as the other evening.  Fishing with beach casting.  I can't ask simple questions to them, frustrating, important to recall this limitation.  I am walking around with Spanish language in my ears from files on my phone.
I see graffiti this like cut into the rocks all the way along the coast line.   Some of it appears very old.  One I see seems to show a date of 1805, this seems unlikely.